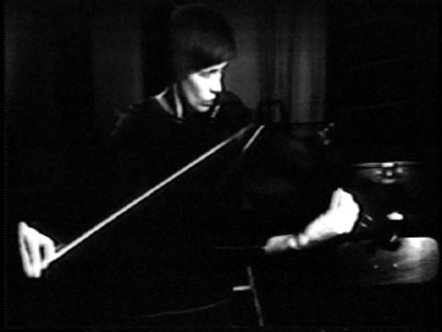 October 16, 2011 7:30p Anthology Film Archives
October 17, 2011, 6:00p Clocktower Gallery
Anthology welcomes video pioneer Steina for a special presentation and screening. Born in Reykjavik, Iceland in 1940, Steina studied violin and music theory, and in 1959 attended the Czechoslovak State Music Conservatory, where she met her husband Woody Vasulka. Together they moved to the U.S., where they soon became crucial figures in the emerging video-art movement, both through their own work and their founding of The Kitchen, the highly influential and still vitally important interdisciplinary arts institution in downtown Manhattan which was one of the first organizations in America to embrace the emergent fields of video and performance art, as well as dance, music, literature, and film. In recent years, while continuing to create numerous videotapes and installations, Steina has increasingly explored the possibilities of interactive performances in public spaces, playing a digitally-adapted violin which manipulates projected video images.
This evening, Steina will be here in person to demonstrate the digital tools she has been using, as well as some of her environments. Through programs such as IMX, which is an updated version of Image/ine by Tom Demeyer, and El Topo, a software written by Rob Shaw, she has created numerous works, including BOREALIS, PYROGLYPHS, MYND, TOKYO FOUR, and THE WEST, all of which she will demonstrate and discuss during this program.
Steina, Noisefields (1974) Museum of Modern Art