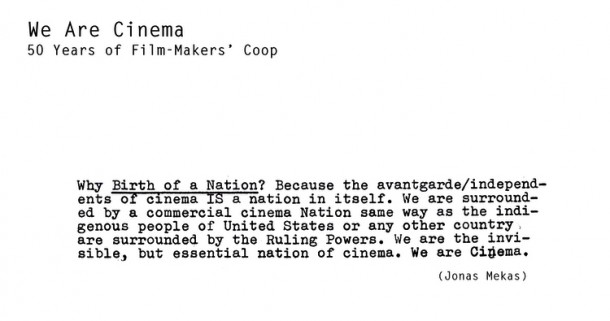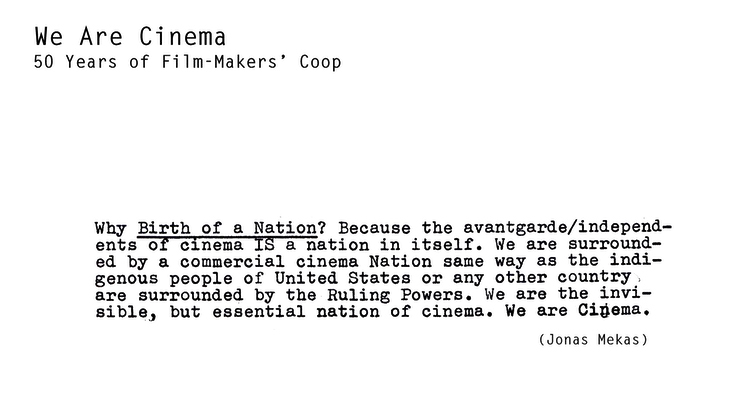 2/11/12 to 3/5/12
Opening Reception Saturday 2/11, 7-9PM
preceded by special 5PM screening of rare shorts by Jack Smith
MICROSCOPE Gallery, 4 Charles Place, Bushwick
We Are Cinema is a month-long exhibit and screening series celebrating 50 years of the Film-Makers' Co-op in NYC. It was in January of 1962 that filmmaker Jonas Mekas called an urgent meeting of about 20 avant-garde/independent filmmakers including Stan Vanderbeek, Rudy Burckhardt, Jack Smith, Ken Jacobs, and Gregory Markopoulos to discuss taking the means of exhibition and distribution into their own hands. Within months the Film-Makers' Co-op was born. Under the stewardship of filmmaker MM Serra since 1991, the organization is now the oldest and largest artist-run cooperative in the world and membership continues to be open to anyone with a film or video work.
We Are Cinema features paintings, drawings, prints, light boxes, and other artworks from the group's earliest to most recent members. Additionally, rare early documents, posters, catalogues, archival materials and historical sound recordings will also on exhibit.
Events start on Saturday February 11, at 5PM – just prior to the official exhibition opening – with the first screening of restored, fresh-from-the-lab 16mm prints of rare short works by legendary filmmaker/artist Jack Smith (Respectable Creatures, Song for Rent, Hot Air Specialists, Overstimulated, Scotch Tape, and Yellow Sequence), all new editions to the Co-op's distribution. Original founding director Jonas Mekas and current director MM Serra will introduce the works. The four-part screening series continues with unique programs by Ken Jacobs (2/18), Jonas Mekas (2/25), and a group show of recent editions to the Co-op's collection (3/4). Seating is limited. Please RSVP to rsvp@microscopegallery.com.
Artists in the exhibition include: Katherine Bauer, Bill Brand, Robert Breer, Rudy Burckhardt, Donna Cameron, Abigail Child, Martha Colburn, Bradley Eros, Su Friedrich, Ken Jacobs, Sabrina Gschwandtner, Anne Hanavan, Takahiko Iimura, Jeanne Liotta, Jonas Mekas, Julie Murray, Jennifer Reeves, Barbara Rubin, Carolee Schneemann, Joel Schlemowitz, MM Serra, Jack Smith, Smith and Lowles, Mark Street, Jack Waters & Peter Cramer, and others.
The Film-Makers' Co-op continues to operate as a vibrant archive and distributor, housing more than 5,000 films and videos by over 900 artists. It is now located at 475 Park Ave South in Manhattan. To schedule a press screening, or for further information about the Co-op and film rentals please contact the Co-op at filmmakerscoop@gmail.com or visit their website www.film-makerscoop.com.
Microscope Gallery is dedicated to presenting the works of film, video, sound, performance and new media artists through exhibitions and a weekly event series. Since its opening in September 2010, the gallery has held 13 exhibits and more than 90 screenings, music, performance and other events. Microscope seeks to dissolve the barriers between the white walls of the gallery and the black box of the theater. It is located in the Bushwick area of Brooklyn.
EXHIBIT: We Are Cinema: 50 years of the Film-Makers' Co-op
Drawings, paintings, photographic prints, video, sound, historical documents, & more
RELATED EVENTS
SAT 2/11:
5PM: Screening "Fresh-from-the-Lab" new prints of rare short films by Jack Smith new to distribution from the Co-op, introduced by MM Serra and Jonas Mekas. Admission $10, RSVP to rsvp@microscopegallery.com. With gratitude to the Barbara Gladstone Gallery and Jerry Tartaglia for the preservation and restoration of Jack Smith's films.
7-9PM We Are Cinema opening reception, open to the public
SAT 2/18: 7PM Ken Jacobs in person, 16mm prints from the Co-op of Blonde Cobra (1959-1963) and The Whirled (1956 to 1963); four shorts of Jack Smith performing; and America At War, The Home Front: Film Opening – 3D (2011). Admission $6
SAT 2/25, 7PM Jonas Mekas in person to present his 1997 Birth of a Nation, which has screened previously only once. Admission $6
SUN 3/4, 7PM, New works to the Co-op's distribution curated by Microscope, introduced by MM Serra. Admission $6