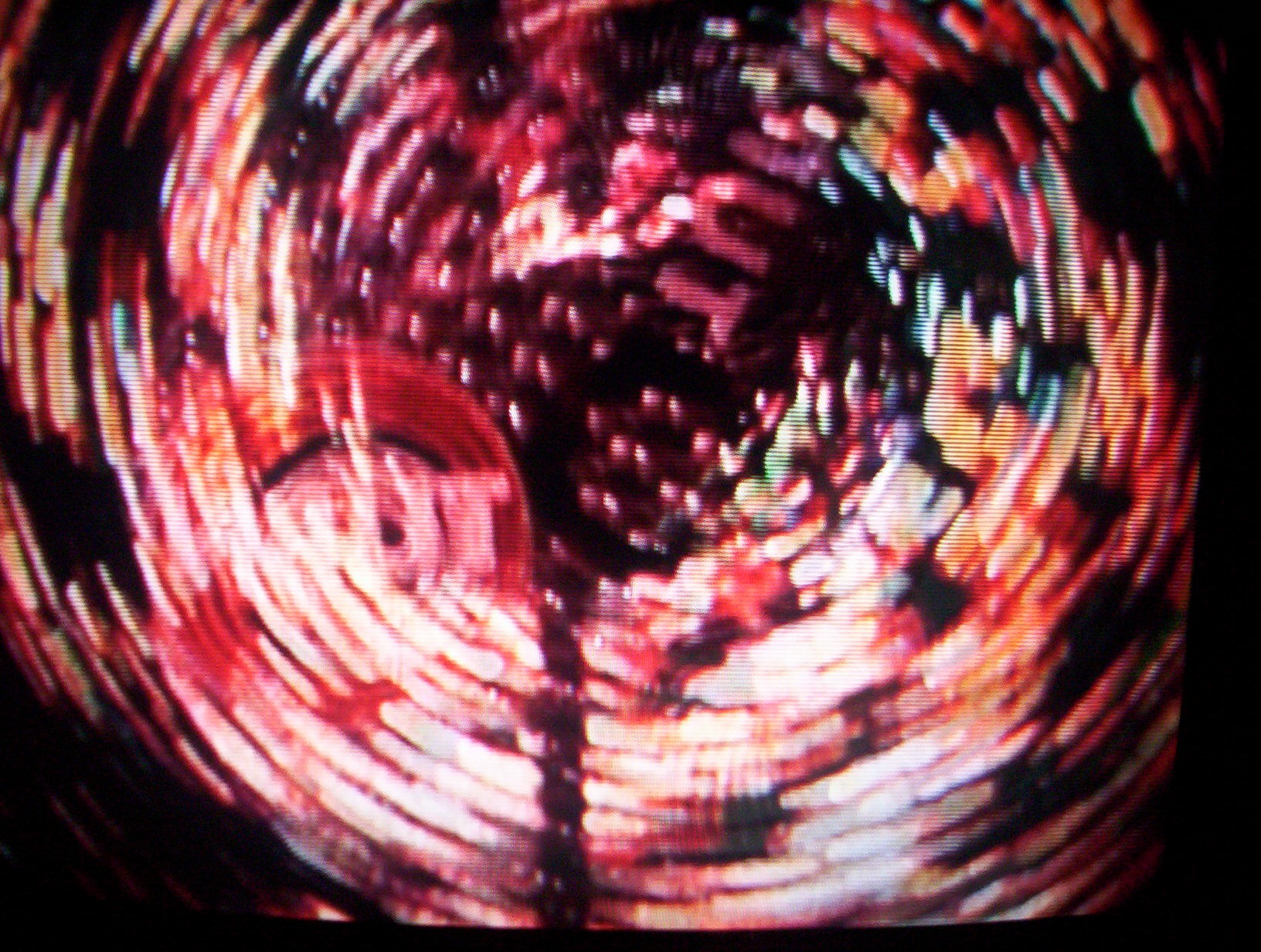 Jud Yalkut is  easily one of my  favorite video pioneers. In conjunction with many other events around NYC celebrating John Cage's centennial, Anthology will screen Yalkut's 1973 video 26'1.1499" FOR A STRING PLAYER; a recorded video manipulation of Cage's composition of the same title.  Performed in 1973, the video features Charlotte Moorman and Nam June Paik. An ultra-rare surprise video will also be screened afterwards, "featuring Cage and a very special partner,"  according to the Anthology website.
The images, which are grandly manipulated and synthesized by Yalkut, never stop flowing in this sublime performance by the landmark performance art/new music duo. Paik and Moorman play Cage's score on a collection of 'instruments' that include a pistol, a dish of mushrooms, balloons, a practice aerial bomb, and a telephone call to President Nixon. Far better and more revealing than any audio recording could ever be, you are guaranteed to have never seen a Cage composition performed quite like this….

Anthology is thrilled to organize a three-evening selection of films in tandem with AMERICAN MAVERICKS at Carnegie Hall featuring the San Francisco Symphony Orchestra with conductor Michael Tilson Thomas. John Cage will be remembered on his centennial with a program featuring rarely-exhibited works that were not screened as part of our extensive VARIATIONS: JOHN CAGE FILM AND VIDEO FESTIVAL back in 2004. We are ecstatic to offer an ultra-special sneak preview of the definitive film portrait of landmark composer Lou Harrison by Eva Soltes, who will be on hand to present this screening, as well as another evening of her docs on Conlon Nancarrow and the expansive West Coast new music scene. Please join us for these shows and make sure to visit the following website for more information on concerts and other events happening around town: carnegiehall.org/mavericks
Screenings
What draws me to Yalkut is his synthesis of moving image material in conjunction with underground music. Also, it doesn't hurt that he now lives in Dayton, OH– where he runs Video Film Collective and teaches video at Wright State. Along with many other early video gurus like Ira Schneider and Frank Gillette, Yalkut found himself in Ohio in the 70s because of Antioch College, which indeed boasts a rich history with the medium.
Working in the tradition of American Avant Garde film– Yalkut inverts pop music and imagery by abstracting and manipulating both image and sound. Often times, his work uses and re-purposes pop songs using stroboscopes, projectors and audiotapes creating videos and performances that reflect the other side of the underneath. Obfuscating the sound into a drone aesthetic, coupled with pop imagery, taping what's available DIY style, his works reveal something new about mass media culture, allowing new meaning to surface from his performative tangent. So very McLuhan.
GODS! (70s Ohio dino-sleaze-psych in the best way possible– you like this band, yr alright in my book.)