By Troy Swain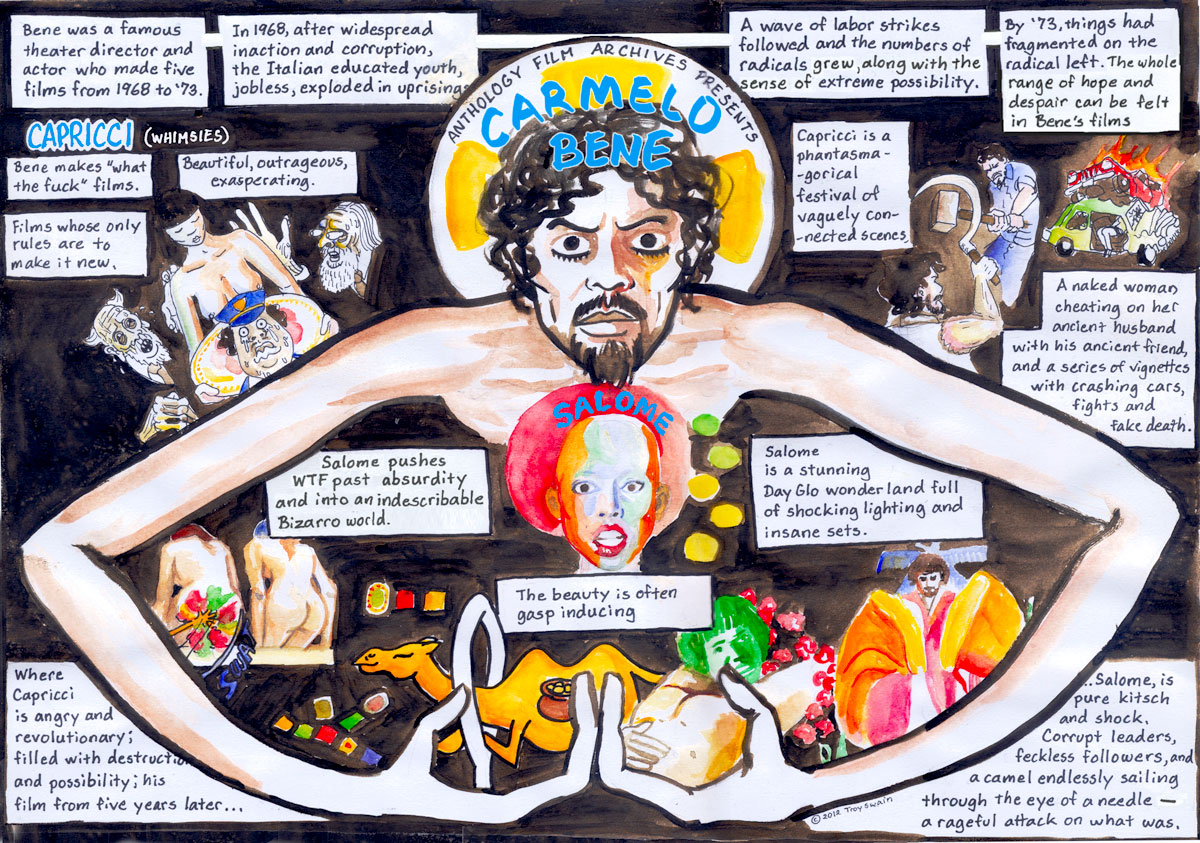 THE FILMS OF CARMELO BENE
Beginning this weekend, Anthology will present this retrospective encompassing all five feature films (as well as a couple shorts) directed by the vanguard filmmaker, actor, and playwright Carmelo Bene, one of the greatest figures in Italian avant-garde culture. Renowned for his work in the theater, Bene turned his attention to filmmaking for a brief period in the late 60s and early 70s, producing a small but unforgettable body of film works. Reflecting Bene's lifetime of engagement with literature and theater – OUR LADY OF THE TURKS is based on his own novel, while his last three features are radical adaptations (or reworkings) of HAMLET, Oscar Wilde's SALOMÈ, and Mozart's opera DON GIOVANNI – his films are visionary, flamboyant, wildly excessive, and exhilaratingly unrestrained. It's been decades since these works have been screened all together, making this an opportunity not to be missed!
"Founder of one of Italy's most famous experimental theatres, poet, actor, author, playwright, and leading avant-gardist, Carmelo Bene is an unknown genius of contemporary cinema. … Bene's films are visual, lyrical and auditory cataclysms, whose lava-like outpourings are of unequalled hallucinatory perversity. Their visual density and creative exuberance defy description." –Amos Vogel, FILM AS A SUBVERSIVE ART
All films are in Italian with projected English subtitles.
Screening Schedule
Carmelo Bene- CAPRICCI
April 26 at 6:45 PM
April 28 at 9:00 PM
Carmelo Bene- DON GIOVANNI
April 26 at 9:15 PM
April 28 at 7:00 PM
Carmelo Bene- SALOMÈ
April 27 at 7:00 PM
April 29 at 4:00 PM
Carmelo Bene- ONE HAMLET LESS
April 27 at 9:00 PM
April 29 at 6:00 PM
Carmelo Bene- OUR LADY OF THE TURKS
April 28 at 4:00 PM
April 29 at 8:15 PM