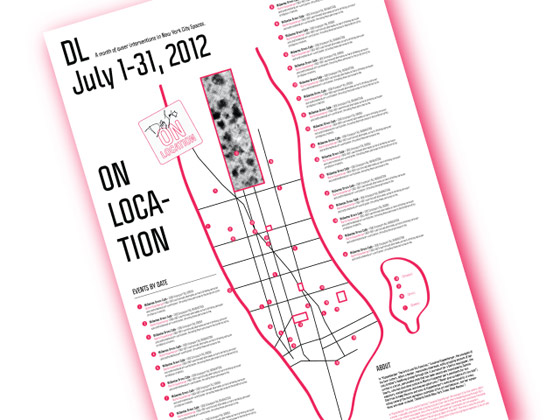 Dirty Looks: On Location is a month-long series of queer interventions in New York City spaces. Over the course of July, Dirty Looks, a roaming series– which typically hosts screenings on the last Wednesday of the month–will install film and video work in queer social spaces and former sites of queer sociality (like shuttered bars, bathhouses and former meeting zones). A new piece, a different setting on each night of July. Please support their Kickstarter through June 2, 2012 here.
A truly experimental festival, Dirty Looks: On Location will promote a greater understanding of queer history around New York City, as postcards placed at each installation will elaborate on the historic significance of each venue. The project will also expand on Dirty Looks' mission, to engage viewers outside of the experimental film community or art world sectors, since the works on view will reach innocent bystanders and casual passers-by. July in New York is hot, sticky and social. Installing moving image works around the city in bars, centers and "haunted" venues allows for the free flow of viewers to engage and celebrate with work, in evening events that commemorate contemporary moving-image production and its precedents in queer culture.
The film and video work was selected by a committee of emerging curators from the art and film worlds:
Tova Carlin (Time Out NYC)
Paul Dallas (Columbia)
Kathryn Garcia
David Everitt Howe (Abrons Art Center)
Jamillah James
Sarvia Jasso (Queering Sex)
Karl McCool
Bradford Nordeen (Dirty Looks)
Bryce Renninger (Rutgers University, formerly Newfest)
Abbe Schriber (Studio Museum Harlem)
Ethan Weinstock (Independent Producer)
Jake Yuzna (Museum of Art and Design)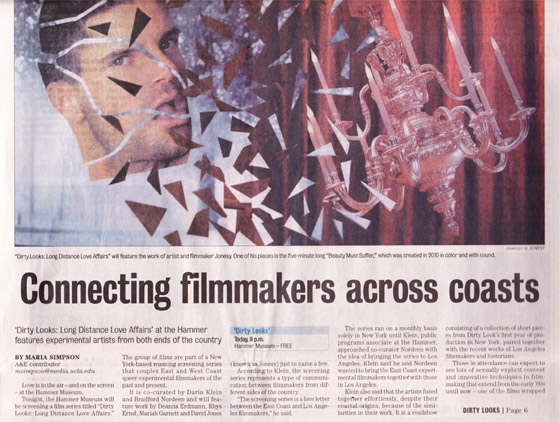 About Dirty Looks:
Dirty Looks, a monthly platform for queer experimental film and video, has been in operation since January 2011. In that time they have screened experimental works by nearly 50 artists at venues like PARTICIPANT INC, Artists Space, Judson Memorial Church, P.P.O.W Gallery, White Columns (forthcoming) and the rooftop venue, Silvershed. They regularly receive attendance nearing 100 viewers and have reached crowds in excess of 200. They've partnered with queer institutions, like Newfest, MIX NYC, Spank, Union Docs, the L Magazine, Women Make Movies, Little Joe Magazine, Translady Fanzine, Birdsong Micropress, QT Reading series at Dixon Place, P***y F****t, and [ 2nd floor projects ] on events and publications and their screenings have been featured in publications like Bad At Sports, Gayletter, Art Fag City, Slant, Hyperallergic, the L Magazine, Time Out NYC and more.
"Just over a year old, this underground-style series is already way above ground, bringing its adventurous, open-minded brand of avant-garde to the West Coast."
Shana Nys Dambrot, LA Weekly
"[Dirty Looks] has brought new meaning to camp, parody and the marginal."
Bruce Benderson, Out
"Best Monthly series in New York"
Kate Wadkins, of Hyperallergic