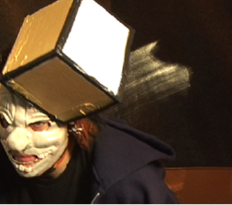 Initially, I became acquainted with Harry Dodge's absurdist, performance-based videos made with Stanya Kahn in LA between 2002-2008. Over the last 4 years, Dodge has generated a viscerally affective body of multimedia work, employing all manner of drawing, performance, video and sculpture. Three videos from her solo exhibition, on view currently at Wallspace Gallery will be celebrated once more for free at the Kitchen tomorrow evening. The multi-disciplinary show deals "what is unnamable, transitive, or "in-between," among other things. The trilogy of videos, masses of drawings, and selected sculptures presented here are also united by their pointed interest in brutality, precariousness, humor and resilience."
Made with urgency over the course of a six-month period, the video trilogy of Ipse Dixit (2011), Unkillable (2011), and Fred Can Never Be Called Bald (2011) explores the space in between language and image, as well as the inexorability of narrative progress or momentum itself in different tonal and formal registers. Ipse Dixit is a two-minute loop that uses the simplest tools of Final Cut Pro to deliver a short transcription on the end of the world. The black comedy Unkillable investigates the potency of images made from language by means of monologic performance: wearing a mask, Dodge performs a "text-story" of a would-be film made up of progressively appalling events. Fred Can Never Be Called Bald uses a combination of text cards, computer voiceover, and a distorted collage of YouTube clips to meditate on the translation and compression of material information into the digitized, virtual world.  Each piece in the trilogy edges its structural and metaphysical concerns with a measure of comedy and brutality, offering tough, tender witness to the vulnerability of the human animal and its enterprises. "

Harriet "Harry" Dodge was one of the founders of the now-legendary San Francisco community-based performance space, The Bearded Lady, which served as a gathering point for a pioneering, poly-sexual, queer literary and arts scene in the early 1990s. During that time, Dodge also wrote, directed and performed several critically acclaimed, evening-length monologues including Muddy Little River (1996) and From Where I'm Sitting (I Can Only Reach Your Ass) (1997). In the late 1990s, Dodge wrote, directed, edited and starred in a narrative feature film, By Hook or By Crook, which premiered at the Sundance Festival in 2002, with Silas Howard. The film went on to become a cult classic, garnering five Best Feature awards at various film festivals. Dodge also performed in the 2000 John Waters film, Cecil B. Demented.
Stream Dodge and Kahn's videos on Ubu
+All Together Now (2008)
+Can't Swallow It, Can't Spit It Out (2006)
+Masters of None (2006) The Ugly Truth (2006)
+Let the Good Times Roll (2004) Whacker (2005)
+Winner (2002)
The videos are made available for sale, exhibition, and education by Electronic Arts Intermix.