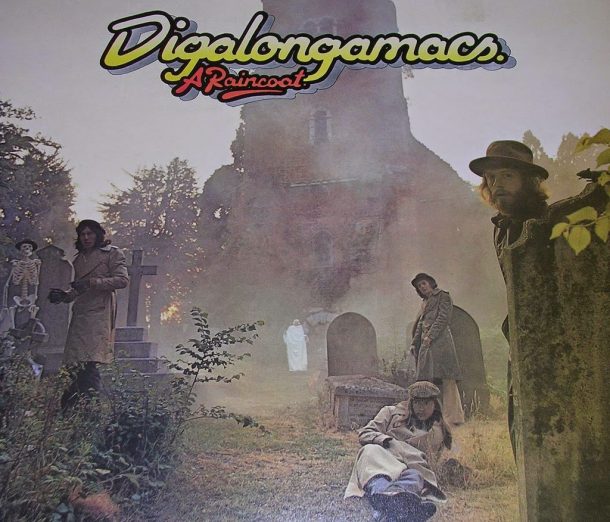 Andy Arthurs had a brief recording career from 1974 to 1979, recording with A Raincoat, and under his own name. The previously mentioned A Raincoat LP, Digalongamacs, takes its enigmatic title and bizarre cover photo — Arthurs and his band mates wearing raincoats in a London cemetery — from a visual pun involving the British term for raincoats ("macs"), the cheesy British crooner Max Bygraves, and his album of sing-along standards, Singalongamax. The original album title, Macs by Graves, was nixed at the last minute by nervous label executives fearful of offending Mr. Bygraves.
The 1975 album had two minor airplay hits in the UK with "I Love You for Your Mind (Not Your Body)," and "You Can Heavy Breathe on Me," songs that typified the band's quirky, inventive pop sensibility, but never made a major splash.
Formed quickly with some school mates after EMI expressed interest in a demo tape of his songs, but told him they were interested in signing bands, not solo artists. All the members considered it temporary, and it soon disbanded. They had no idea how lucky they were to land a record deal so quickly, and probably didn't take it too seriously.
A Raincoat," ultimately came to serve as the soundtrack to the abridged version of Kenneth Anger's Rabbit's Moon.
"It Came in the Night" is a song Arthurs wrote himself and recorded with A Raincoat in 1976, too late to appear on Digalongamacs. The single was released in the UK only and sold less than 1,000 copies before evaporating. Arthurs had no idea Anger — of whom he had never heard — used it for his 1979 re-edit of Rabbit's Moon until several years after the fact, when his brother heard a radio interview with Anger. Arthurs had to buy a copy of the Mystic Fire videotape like anybody else to see how his own work had been appropriated.

As for why the name Arthurs was misspelled on the video box, and the song miscredited to Arthurs alone instead of A Raincoat — the reclusive Anger isn't talking. A lawyer friend assures me that if the purpose was to avoid a copyright infringement lawsuit, the name would have been completely changed. It's astonishing that Anger ever heard the song in the first place, as sales and airplay were practically nonexistent. But in some freaky cosmic convergence, somehow he did hear the song, correctly decided it would be the ideal soundtrack for Rabbit's Moon, and obtained the music without contacting Arthurs or EMI. He then mistakenly credited the songwriter instead of the artist named on the label, and this, combined with the typo on the songwriter's name, produced the confusion that took so long to unravel.

Andy Arthurs doesn't seem particularly perturbed or bitter about the whole affair, and proudly lists the accomplishment on his resume — ironically without giving the actual name of the song, referring instead to the "theme song from Rabbit's Moon." He currently shows Anger's film to his students as an example of a "postmodern" soundtrack — a perfect composition to a film he had never seen.  –Who is Andy Arthur
"Andy Arthur," upon closer inspection, is revealed to be one Andrew Colin Arthurs, 53, Professor of Music at Queensland University of Technology in Brisbane, Australia. The British-born Arthurs is a musical wunderkind known primarily for his studio talents, having engineered or produced albums for such artists as Joe Jackson, Bryan Ferry, and The Chords. Arthurs, who is from Cheltonham, England, attended the University of Surrey from 1970 to 1974, from whence he received the unusual tonmeister Bachelor's degree — "tonmeister" being a German term describing someone along the lines of record producer/engineer/sound designer.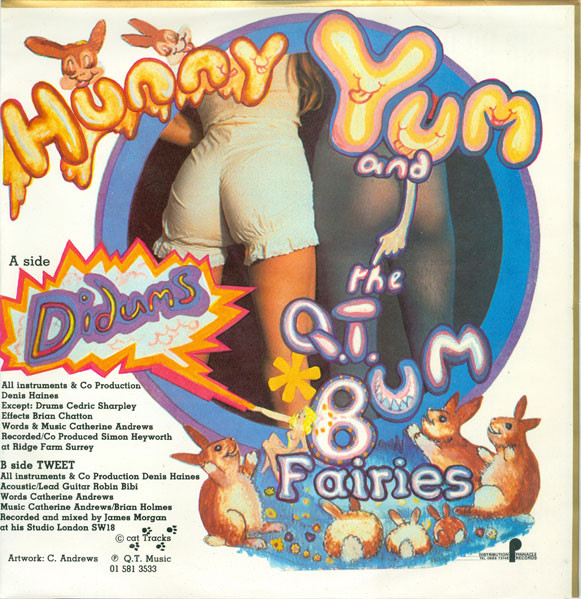 A less than solvable mystery (to me at least) is the story about the above single, "Didums" by Honey Yum and the QT Bum Fairies.
Didums video was shown on BBC's Saturday morning television program, hosted by Noel Edmunds, in the late seventies. "It features Catherine Andrews dressed as a fairy, men in tight hot pants working on a building site and an ice cream van with 3 random women in glittery wigs licking ice creams" according to a youtube comment left on Documentally's youtube channel. Below is a Catherine Andrews solo record from 1982. More info on that to follow.