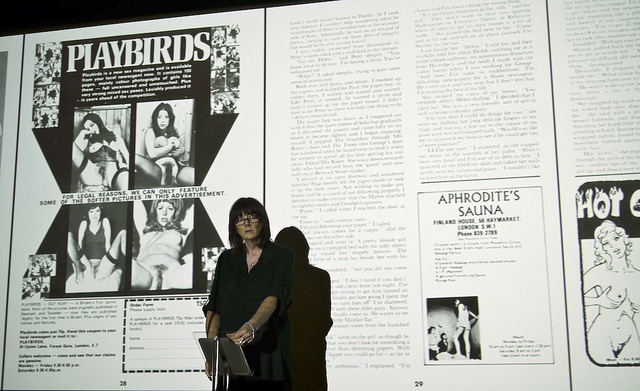 Phrased as a postscript to her practice that inhabited the porn industry of the late 70s and early 80s, Cosey Fanni Tutti's Confessions Projected reclaims her self-image through a 20-minute live, personal and critical reading, whilst washed with projected images of the magazine action Sexy Confessions of A Shop Assistant. Tate Britain presented Confessions Projected last Friday.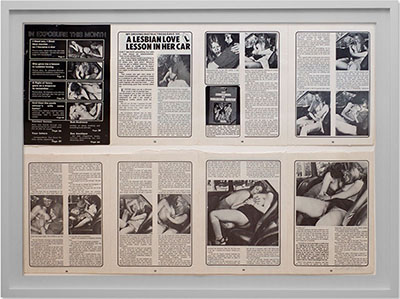 Confessions
Cabinet produced a high quality facsimile of the magazine 'Confessions of A Shop Assistant', one of Cosey's sex magazine actions from 1975 which was originally included in the 1976 COUM 'Prostitution' show at the Institute of Contemporary Arts in London.  The additional postscript text consist of extracts from Cosey's personal 1975 diary which relate to the 'CONFESSIONS' magazine art action and her subsequent retrospective viewpoint written in 2003.
'CONFESSIONS' is a fine art work and not a commercially published book and thus places the 1975 sex magazine art action in its original context from which it was displaced due to the furore surrounding the original 'Prostitution' ICA exhibition.
Cosey Complex Reader (Maria Fusco, 2010)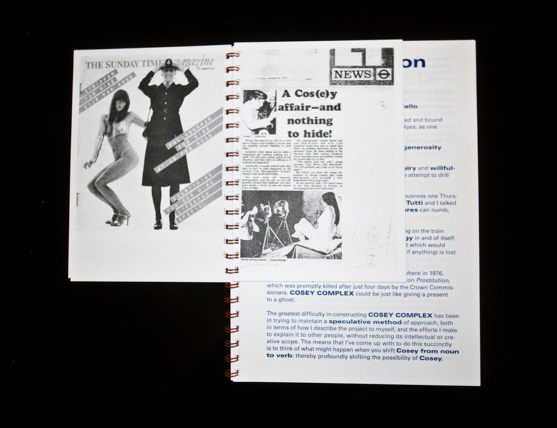 COSEY COMPLEX Reader was produced as a discursive intervention produced in the ICA's Reading Room in the weeks leading up to COSEY COMPLEX at ICA, London on 27 March 2010. It was conceived by Zak Kyes and commissioned by Maria Fusco and the ICA. The Reader was produced on-site in the ICA Reading Room as part of Zak's two-week residency. I first came across the publication at Printed Matter in New York. Unfortunately the edition is long since sold out.
COSEY COMPLEX emerged from Fusco's project "Linguistic Hardcore" and Fusco's experimental art journal "The Happy Hypocrite." The ICA project focused on what might happen when you shift Cosey from noun to verb: thereby profoundly shifting the possibility of "Cosey."