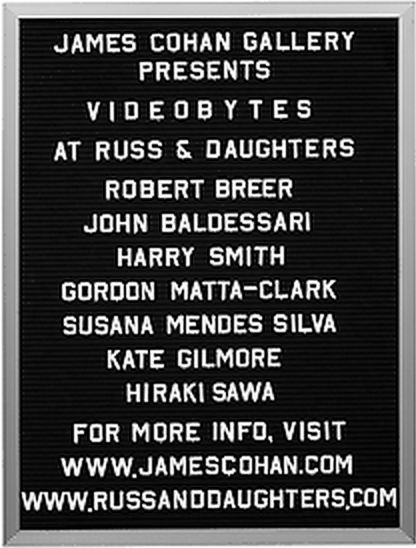 Videobytes at Russ & Daughters: 179 East Houston Street
With work that spans a fifty-year period, Videobytes features pieces by internationally renowned experimental filmmakers Robert Breer and Harry Smith, conceptual artists John Baldessari and Gordon Matta-Clark, and a younger generation of video and performance artists including Kate Gilmore, Hiraki Sawa and Susana Mendes Silva. The common link between all seven of these artists is their engagement with process, performance and materials.
The engagement with process and materials is one that is essential at Russ & Daughters as well. For nearly 100 years, the Russ & Daughters family and staff have maintained the gastronomic tradition of appetizing in New York — personally selecting only the finest fish, hand-slicing smoked salmon with paper thin precision, and serving as the heart of the community—with artisanal skill and passion. Throughout its history, Russ & Daughters has been a hub of culture and community on the Lower East Side. When Yiddish and vaudeville theaters populated Second Avenue, Russ & Daughters stayed open until 2:00 a.m. on Saturdays to accommodate the post-theater crowd of actors, musicians, and audience members who flooded into Russ & Daughters looking for lox for a late dinner or for the next day's brunch. During the difficult decades of the 60's through the 80's, when few people other than artists and bohemians lived or even ventured into the neighborhood, Russ & Daughters was a beacon of nourishment and community. It is in this spirit of dialogue between food, community and the arts that Russ & Daughters has partnered with the James Cohan Gallery to now host the exhibition Videobytes.
[James Cohan Gallery Press Release]