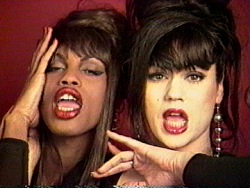 "New York City 1988. Raging homophobia. A killer on the loose. Disco dancing till dawn. Performers struggle to survive. Delilah seduces Samson in song. Gender illusionists go shopping."
Samson and Delilah, 1991.
Charles Atlas at Judson Church
January 25th, 8:30 – 10:30 PM
-Filmmaker in Person-
Dirty Looks presents an evening of video work by Charles Atlas. With a career that spans 30-years, Atlas is one of the world's most stalwart and vibrant videogrpahers of queer cultures and contemporary dance. This program will culminate with the premiere of material from Turning, a feature-length collaboration between Atlas and Antony Hegarty, on the eve of the Museum of Modern Art commissioned Antony and the Johnsons' Swanlights performance at Radio City Music Hall. Turning will premiere in early 2012. Atlas will also be featured in the upcoming 2012 Whitney Biennial. With special performances from Leigh Bowery, Antony, and Carlos Morales (via Atlas' rarely screened porn film, Staten Island Sex Cult), the works in this program cover more than twenty years of portraiture and collaboration at the vanguard of queer artistic practice.
The event will also feature a complimentary publication featuring writings and original artwork.
PROGRAM
Son of Sam and Delilah, Video, 27min., 1991
Butcher's Vogue, Video, 5min., 1990
Staten Island Sex Cult, Video, 10 min. (excerpt), 1999
Instant Fame! Donald, Video, 5min., 2005
Mrs. Peanut Visits New York, Video, 6min., 1992-99
The Draglinquents, Video, 7min., 1990
I Fell In Love With A Dead Boy (from Turning),Video, 4min., 2012
AND tonight is Light Industry's first night of programming at the 155 Freeman Building. Media mavens Thomas Beard and Ed Halter (& co?) will project a new HD restoration of Charles Atlas' 1977, work Torse in double projection. The work's "subject" is Merce Cunningham, his torso, and the art of using film and video to "see choreography."
Atlas shot the dance with three 16mm cameras over the course of three days at the University of Washington, where the company was then in residence. Two mobile cameras captured close-ups, while a single stationary camera was set up for long shots. Atlas and Cunningham manned the mobile cameras while a technician handled the static camera, and the results were edited by Atlas into a single, two-screen film that was originally shown via a now all-but-extinct dual-interlock 16mm projection system.
The fifty-five-minute work features music by pioneering composer Maryanne Amacher and costumes by the company's longtime designer, Mark Lancaster. As was typical in Cunningham's practice, the choreography and sound were made separately, so that any relationship between music and movement is serendipitous. Torse is also notable as an instance of Cunningham's use of chance operations; the choreography comprises sixty-four distinct phrases, and the floor-space is divided into sixty-four squares—a reference to the number of hexagrams in the I Ching. Cunningham created separate "space charts" and "movement charts" and tossed coins to determine the combinations for the ten dancers (Cornfield, Karole Armitage, Lisa Fox, Meg Harper, and Robert Kovich are among those who appear in the film). The result is, as Arlene Croce once described it, "monomaniacally urgent." That, and something else: one felicitous decision after another, a sublime study in the intersection of rigor and contingency.
Can't wait! Wish someone would screen my favorite Merce/Atlas collab, Merce by Merce by Paik pt 1: Blue Studio: Five Segments from 1976. A videodance by Merce Cunningham, shot by his then filmmaker-in-residence Charles Atlas. Choreographed and performed specifically for video space, Cunningham is multiplied, overlaid and transported from the studio to a series of unexpected landscapes. Cunningham's gestural dance is manipulated to the accompaniment of a disjunctive audio collage that includes the voices of John Cage and Jasper Johns. One of these days I'll digitize my tape of it. Maybe this week—in honor of these events.