The Creative Works of Chris Knox 1965-2014 an Interview
by
R. Kellie
on
08/21/14
•
9:56 AM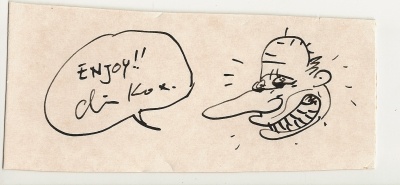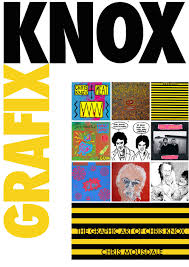 Stumbled upon a treasure trove an amazing body of work pulled together– just shy of 50 years worth, actually– by the musician, painter, video artist, comic artist, filmmaker, all around creative, and KIWI icon, Chris Knox. Astonishingly, there has not yet been a monograph of Chris' visual artwork– appropriately contextualizing it through the years.  There's no doubt that many  have been fascinated by and curious to learn more about this side of Chris' career.  His music works has been vastly documented, but this is not the case with his art, and one could even argue that the visual themes throughout, while parallel with the themes in his songwriting– may have provided many of us with an "in" and a consistency of pattern recognition, that aesthetics theory says us humans so love and crave.
Most followers of Chris are aware of the fact that he suffered a debilitating stroke in 2009, which he still deals with on a daily basis today. But Chris' drive to perform and create prevails, as evidenced by a smattering of live performances, granting recent permissions for several record reissues, and most of all: his continuation with creating works of art. The new monograph, which chronicles and contextualizes Chris' work, is sort of a two-fer for the consumer: help support a deserving artist in need, and gain long-overdue insight to his (behemoth) body of work. I hope that this project is the first of many, especially since so many of his fans rely on distributed objects outside of NZ.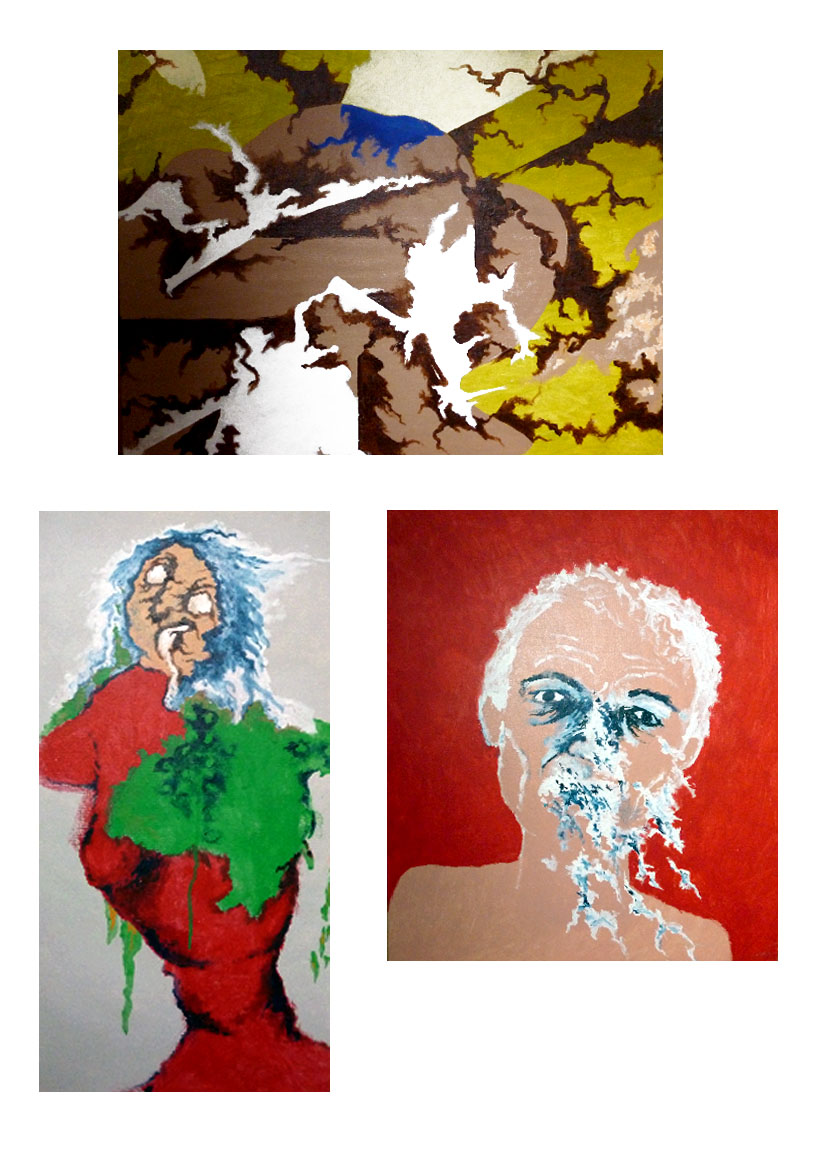 I spoke with the project's creator, Chris Mousdale about the book, and about Chris' Knoxian visual history:
How did this project come about?  I worked with Chris in 2001 on a touring exhibition of New Zealand record cover design. We included some of Chris's work and he and Alec Bathgate performed at the opening. I think this is why he chose me to help him with this new project. As an illustrator and painter myself he probably saw that I would have a good understanding of the realities of archiving and recording a body of work such as Chris's.
In retrospect, looking at the full scope of Chris' visual art, can you see different periods emerge? If so, what possible external factors would you attribute these styles to? Did these periods coincide with his various segments of his music career as it progressed?  We've really only scraped the surface in terms of analysing Chris's body of work. There is a huge amount, stacks of stuff piled in all the corners of his studio in Grey Lynn. He's always been about drawing. You can see he was just driven to record stuff. Monsters, musicians, strange creatures. The interior of his house has images and drawings all over, on walls and surfaces, he really surrounded himself with the hand-made. In terms of 'periods' there is probably a more 'punk' aesthetic around the Toy Love era, but Chris was already thinking and drawing in the off-beat, spiky style which we might associate with 'punk'. Comics, obviously, have been a huge influence and in the book we hope to explore that.
What kinds of stylistic influences do you see in the body of work represented in the new book? I think the big names, Robert Crumb say, would have been an influence. One of the challenges we have is going thru the work and attempting to assess the influences and inspirations without Chris's verbal assistance as he is quite dramatically compromised in his speech. He's certainly very much on the ball with the project but it's an unusual situation. If we can get the project up and running then interviews with Chris's contemporaries and associates will be vital in contextualising his work and its themes.
Did Chris paint all along, or was there a shift from illustration work to painting at some point?
He's always made stuff. The monsters and the graphics around horror films came first, then I think the Beatles were a huge influence and that brought the idea of music together with images. He's a huge fan, and the work he makes is always pushed along by the passion that fans bring to their subjects. As a body of work what really jumps out is the enthusiasm that Chris has for films, records, cultural debris.
Did Chris show work in galleries? What kind of commercial value does it have either previously or currently? Apart from the show in 2001 I don't think Chris has formally exhibited. The recent paintings Chris is working on are pretty amazing. They record his experiences living with the seizures and after effects of the stroke in 2009 and they are really powerful. They use the very distinctive Chris Knox 'palette', one of the really defining aspects of his work is the mad combinations of colours he's always been attracted to. Think wild yellows, funky purples, eye-popping reds and blues. I'd call it Knoxian.
How far back does the book go in the scope of Chris' career? How new is the most recent work that is included? We want to get right back  to the 60s and his formative years. That'll take some digging and going down to Invercargill and Dunedin to retrace his early days. What will really blow peoples minds will be the the new work. It's fantastic. But the book aims to tell the whole story and we want it to be really authoritative.
Does the book touch on his film and video work at all? The original animation stills are beautiful objects in their own right and we will certainly be showing them and covering the incredible films Chris and Barbara made. It's important to talk about her because she was such an important collaborator with Chris and an artist that brought a real originality to the work. We also want to show the original tapes, demos, cassettes and all the related music stuff. It's fascinating to see and really shows you that the whole process for Chris was one continuous art piece. His life, really!
Indeed, Chris' career is a force to be reckoned with, and indeed this book should be highly anticipated! Place your pledge to the project via Fundnation now, as time is running out to fund the campaign.