It's been a long time coming. Since 1997 to be exact– a record that was slated for release via Onion records once upon a time, eventually comitted to the vicissitudes of the CD, will finally get the vinyl treatment after nearly 20 years. True, that the CD is not a particularly rare one, or that the greater population of music buying public might not lose sleep over it's lack of proverbial existence, but truth be told– this inaugural release for Straight to Video the label had to happen in order for the label to become the label. Sure, we've done a lot of shit over the years. Starting in Brooklyn as a blog to waste time at work, and moving into a curatorial project for film and video screenings in the popcorn-less artspaces of NYC, to the eventual thinning out online content as a result of existing in the doledrum theoretical state of Drag City in Chicago; before focusing on freelance PR for a handful of very lucky bands as a direct result of the previous sentence (literally and figuratively). Anyhow the goal somewhere between Brooklyn and Chicago became to start putting out records– especially after the unfortunate experience of being a slave to hyping records that you find to be frankly unlistenable. And not unlistenable in a challenging, or this is "complicated music" kind of way. More like in a "what the fuck am I wasting my time on this shit" kind of way.  So here's the first one– a record that is near and dear to me on several levels. A record that has a fascinating story that I truly hope that someone will investigate further. Songs that when performed live, are even more badass now than in '97. Anyways, I could and would go on for paragraphs about this, so instead– here are some [meaningful] contextual words about the record from your spirit animal and mine, Tom Lax: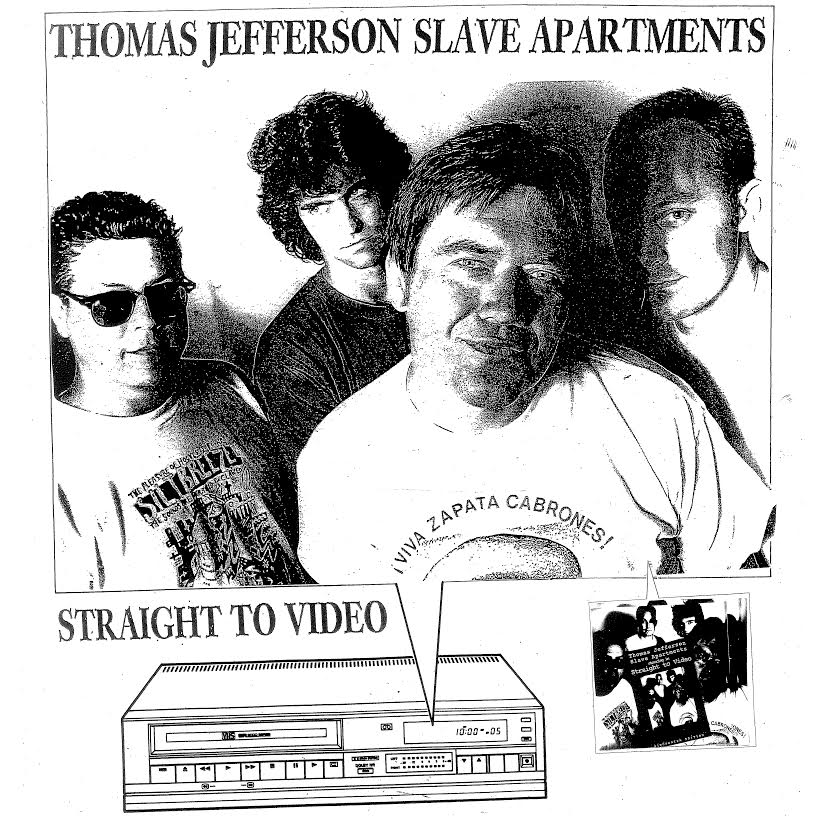 It seems inconceivable now, but back in '91, foreseeing the impact of Nirvana's Nevermind on America's underground music scene, or the subsequent feeding frenzy, was virtually impossible. Overzealous major-label A&R reps stalked this nation's bars 'n' basements for the next few years like ravenous chickens in pursuit of an elusive grasshopper they couldn't see but knew existed. It had to! Many alt-rock Orthopterida were snared, none of whose stridulations seemed to resonate in a manner deemed by the greedy as a prerequisite for sure-fire bankability, and thus the hunt continued. By 1995 an enterprising yardbird strutting his stuff for the Onion label (a division of Rick Rubin's American Records) had pecked his way down the trail to Thomas Jefferson Slave Apartments. And before you could say "Coq au Vin," a deal was struck and their sneeringly great debut LP, Bait & Switch was (ostensibly) available for mainstream consumption from Caribou, Maine, to San Ysidro, California. How well it sold is a quandary to explore on a day far rainier than this, but it was chock full of the band's best numbers (at the time), an inexplicable Electric Eels cover, and a scabrous stab at the Rock & Hall Of Fame, which, predictably, garnered the most widespread attention. Whatever, something must've been working, 'cause unlike their label peers (V-3 and Stiffs Inc.), TJSA turned in a follow-up long player, Straight To Video, and it was a hummer.
But Onion had other ideas, foremost of which was a quick vamoose into the ether of non-existence. The label shuttered its doors, and in one fell swoop, the band was paid for, then handed back, their effort. And so ended TJSA's brush in the bigs. Undaunted, they began the search for its next home, calling on labels such as Treble Kicker, Vinyl Communications, and Roadrunner, only to be ignored time and again. A pall of uncertainty loomed, with the fate of band's finest effort hanging in the balance, when suddenly, local label Anyway Records — flush from the proceeds of winning an Ohio State pie-eating contest — stepped forward to grant Straight To Video the mortality it so richly deserved ("mortality" being code for "CD only"). Fanfare was zero. Not even a press release. However, the distribution was solid enough, but to a person, every fan of Straight To Video would tell you it was meant for the grandeur of vinyl, not the cheap vacancy of a compact disc. As sophomore efforts go, the numbers that this is better than (J. Geils Band's The Morning After, for sure) far outweigh those it is not (Born In A Barn is a tough one to top). Ron House's lyrics peak with his inimitable wit and wisdom, his delivery as rich as Chinese takeout for Sunday dinner. Guitarist Bob Petric tempers those pummeling, EVH-like power chords with soaring, uncanny Schenker-esque fluidity while the rhythm section of bassist Craig Dunson and drummer Ted Hattemer rudder this fucker with such precision, the best thing you can say about 'em is you almost don't even know they're there.
It's taken almost 20 years for justice to find its mark, but Kellie Morgan's Straight To Video, THE LABEL, has made it possible for Straight To Video, THE RECORD. So, to quoteth the bard (aka Ron House), "When the entertainment ends, that's when the fun begins." So whaddaya say? Let's get this party started!
—Tom Lax (Ambatofinandrahana, Madagascar, 2015)