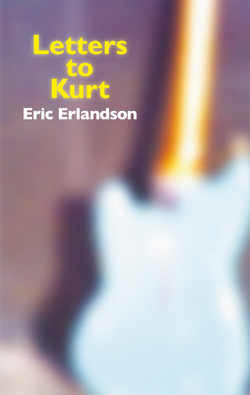 There are a lot of paths the narrative in this book could potentially go. Comprised of 52 prose poems, each a mini elegy for Kurt Cobain, the book will most likely be an explaination/apology to a friend who's demise was largely caused by Erlandson's long term bandmate combined with a general assessment of that whole scene. The longest Hole member, Erlandson no doubt bore witness to the various waves of psychological warfare Courtney would wage upon people in her life. The recent documentary 'Hit So Hard: The Life and Near-Death Story of Drummer Patty Schemel,' is another recent first-hand example of this.
Love and Erlandson, the two founding members of Hole had a contract stating that neither one could perform or release music under the Hole moniker without eachother's participation. When Courtney announced her 2009 solo record would be released by "Hole" (but without Erlandson) things got ugly. Courtney's management illegedly told Erlandson that the album would never be finished– and therefore there was no real threat. But it did– which definitely violated the "contract" in place. Even if Letters to Kurt doesn't shed light on that particular situation, perhaps it will lend some insight to the general tone and current relationship between Courtney and Eric.
"Nearly two decades after the death of Kurt Cobain, a friend and fellow musician not only continues to mourn his suicide, but also rages against the culture that he holds responsible. These 52 'letters' . . . combine the subject matter of the Byrds' 'So You Wanna Be a Rock and Roll Star' with the fury of Allen Ginsberg's Howl . . . A catharsis for the writer and perhaps for the reader as well."
—Kirkus Reviews
"The reverberations of Kurt's suicide last to this day, and have touched the lives of many. Dozens of people could have written their own version of this bracingly candid book; Eric Erlandson has written one, filled with rage and love, landmined with detail, that can stand for them all."
—Michael Azerrad, author of Come As You Are: The Story of Nirvana
"Eric was the spirit-boy in the Nirvana/Hole dynamic. Quiet, bemused, intelligent, and curiously intuitive to the power of hugging the devil, to say we will all be okay. The early 1990s were an explosive and defining period of creativity and excitement for the underground punk/post-punk scene, particularly with the manifest poetry of Kurt, who we were so proud to have as a light in our shared time and space. Eric expresses how enchanting Kurt was, how the whole scene was, with his thoughtful, radical adult/prose love. Bring on the future, darling."
—Thurston Moore, musician
"Eric. He was always there: supportive, observing, in the thick of it. Hidden in plain sight . . . Without him, I can't imagine Seattle or L.A. or a dozen other places. This book is beautiful, brutal, brief. Happy-sad eloquence. Boy Scouts playing with the complimentary cologne in the heart of the ghost town. Listen to the man. He knows."
—Everett True, author of Nirvana: The Biography
LETTERS TO KURT IS AN ANGUISHED, ANGRY, AND TENDER meditation on the octane and ether of rock and roll and its many moons: sex, drugs, suicide, fame, and rage. It's part Dream Songs, part Bukowski, Ferlinghetti, Ginsberg, and the Clash. Rants, reflections, and gunshot fill these fifty-two prose poems. They are raw, funny, sad, and searching. This will make a beautiful book for anyone who loved Nirvana and Hole and the time and place when their music changed everything. Ultimately, it's an elegy for Kurt and the "suicide idols" who tragically fail to find salvation in their amazing music.
ERIC ERLANDSON was born and raised in San Pedro, California. He is best known as cofounder, songwriter, and lead guitarist of the alternative rock band Hole, which he formed with Courtney Love. Their albums Pretty on the Inside, Live Through This, and Celebrity Skin achieved international recognition and success. Live Through This was named one of the top 100 albums of all time by Time magazine. Since the breakup of the band in 2002, Erlandson has been involved in a number of musical and literary projects. He has a BS in Economics from Loyola Marymount University and practices Nichiren Shoshu Buddhism. He currently lives in Los Angeles.
———————————————————————————————————————————-
http://www.akashicbooks.com/store/page7.html
The cost of the preorder is $50 U.S., plus $15 for UPS Ground shipping, or $30 for UPS 2-Day shipping. (All non-U.S. orders, including those to Canada, will be charged $35 to cover the *exact* cost of International Priority Mail postage, or $40 for International Express Mail postage.) Applicable sales tax (8.875 percent) will be collected on all orders within New York State. Note that all orders will ship before the official publication date of the book in April 2012.
This LIMITED preorder includes the following items:
1) One advance hardcover copy of LETTERS TO KURT, by Eric Erlandson.
2) One copy of COCK SOUP, a limited edition chapbook/photo compendium, SIGNED by Eric Erlandson. COCK SOUP consists of 52 photographs of ephemera shot by Eric Erlandson as a visual accompaniment to LETTERS TO KURT.
3) A SIGNED Polaroid-style snapshot taken by Eric Erlandson — a unique photo and inscription for each preorder package purchased.
4) An exclusive CD outtake of the upcoming soundtrack to LETTERS TO KURT.
**The signed photograph and CD outtake are EXCLUSIVE TO THIS PREORDER AND WILL NOT BE MADE AVAILABLE FOR SALE ANYWHERE ELSE.**
Please note that we will send shipping confirmation e-mails (with relevant tracking details) as soon as your order has been mailed.
Please click here for more information on the regular (non-preorder) hardcover edition of the book.
—Thurs., April 5, 7:00pm
Barnes & Noble Union Square
33 East 17th St.
NEW YORK, NY
* Upstairs at the Square presents Eric Erlandson with special musical guest Melissa Auf der Maur