Moving Image: Contemporary Video Art Fair 3/8-3/11
by
R. Kellie
on
03/5/12
•
12:31 PM

Moving Image, Contemporary Video Art Fair 3/8-3/11
Thursday– Saturday, 3/8–3/10, (11–8 PM)
Sunday, 3/11, (11-4 PM).
Opening: Thursday, March 8, 6–8 PM.
Located in the Waterfront Tunnel event space between 27th and 28th Streets with an entrance on 11th Avenue in Chelsea. 
In its second year, Moving Image presents a selection of international commercial galleries and non-profit institutions showing  single-channel videos, single-channel projections, video sculptures, and other larger video installations.
In addition to the selection of works for the fair, there are several events planned throughout the weekend:
Friday, March 9, 2012
5:00-6:30 pm
Hidden Treasure: Special Electronic Arts Intermix (EAI) Presentation on Video Preservation
EAI Executive Director Lori Zippay will discuss EAI's pioneering video preservation program, exploring how this initiative has led to the "rediscovery" of significant but virtually unknown early works by artists. Anthony Ramos's rarely seen, politically charged performance videos of the early 1970s will be featured (with other seminal works) as examples of how preservation can result not only in technical restoration, but also in the restoration and illumination of forgotten histories.
Saturday, March 10, 2012
12:00 -1:30 pm
Panel Discussion : Moving Image Technology of Tomorrow
Moderated by Bridgette Howard (Ogilvy Digital Lab, New York)
Panelists include Jacob Gaboury (staff writer Rhizome.org and Doctoral Candidate, Media, Culture and Communication, New York University); Steven Sacks (owner of bitforms gallery, New York); and Anne Spalter (artist and digital art collector, Providence, RI).
2:00 – 3:30 pm
Moving Image Spotlight Panel : What Do You Get When You Buy Video Art?
Moderated by Rebecca Cleman (Distribution Director, Electronic Arts Intermix, New York)
Panelists include Lisa Dorin (Associate Curator at The Art Institute of Chicago); Jefferson Godard (video collector, Chicago); Berta Sichel (Curator-at-large at the Museo Nacional Centro de Arte Reina Sofia, independent curator and art writer, Madrid/Berlin); and Fabienne Stephan (Curator, Salon 94, New York)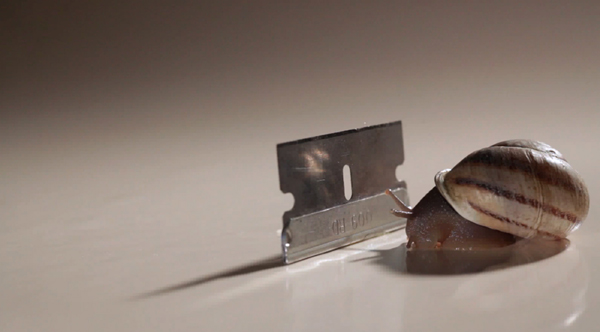 Jesse Fleming, "The Snail and the Razor," 2012. Courtesy the artist and The Company, Los Angeles, CA
Featuring:
AES+F / Anna Schwartz Gallery (Melbourne / Sydney, Australia)
Sama Alshaibi / Lawrie Shabibi (Dubai, UAE)
Josh Azzarella / DCKT Contemporary (New York, NY)
Janet Biggs / Winkleman Gallery (New York, NY)
Eelco Brand / [DAM] Berlin | Cologne (Berlin, Germany)
Josef Dabernig / Andreas Huber (Vienna, Austria)
Song Dong & Yin Xiuzhen / Chambers Fine Art (New York, NY)
VALIE EXPORT / Charim Gallery (Vienna, Austria)
Jesse Fleming / The Company (Los Angeles, CA)
Alexa Gerrity / The Company (Los Angeles, CA)
Kate Gilmore / Braverman Gallery (Tel Aviv, Israel)
Christopher K. Ho / Winkleman Gallery (New York, NY)
Susanne Hofer / Christinger De Mayo (Zurich, Switzerland)
Ken Jacobs / Electronic Arts Intermix (New York, NY)
Yael Kanarek / bitforms gallery (New York, NY)
Kelly Kleinschrodt / Carter & Citizen (Los Angeles, CA)
Julia Kul / Postmasters (New York, NY)
Mary Lucier / Lennon, Weinberg (New York, NY)
Jesse McLean / Interstate Projects (Brooklyn, NY)
Jaakko Pallasvuo / Future Gallery (Berlin, Germany)
Zhang Peili / Saamlung (Hong Kong)
Jenny Perlin / Galerie M+R Fricke (Berlin, Germany)
Daniel Phillips / DODGEgallery (New York, NY)
Alex Prager / Yancey Richardson Gallery (New York, NY)
Hunter Reynolds / P.P.O.W Gallery (New York, NY)
Miguel Angel Rojas / Sicardi Gallery (Houston, TX)
Mariateresa Sartori / Galleria Michela Rizzo (Venice, Italy)
Jaan Toomik / Temnikova and Kasela Gallery (Tallinn, Estonia)
Stefanos Tsivopoulos / prometeogallery di Ida Pisani (Milan, Italy)
Martha Wilson / P.P.O.W Gallery (New York, NY)
Marina Zurkow / bitforms gallery (New York, NY)
Tags:
[DAM] Berlin | Cologne
,
AES+F
,
Alex Prager
,
Alexa Gerrity
,
Andreas Huber
,
Anna Schwartz Gallery
,
bitforms gallery
,
Braverman Gallery
,
Carter & Citizen
,
Chambers Fine Art
,
Charim Gallery
,
Christinger De Mayo
,
Christopher K. Ho
,
Daniel Phillips
,
DCKT Contemporary
,
DODGEgallery
,
Eelco Brand
,
Electronic Arts Intermix
,
Future Gallery
,
Future Gallery Zhang Peili
,
Galerie M+R Fricke
,
Galleria Michela Rizzo
,
Hunter Reynolds
,
Interstate Projects
,
Jaakko Pallasvuo
,
Jaan Toomik
,
Janet Biggs
,
Jenny Perlin
,
Jesse Fleming
,
Jesse McLean
,
Josef Dabernig
,
Josh Azzarella
,
Julia Kul
,
Kate Gilmore
,
Kelly Kleinschrodt
,
Ken Jacobs
,
Lawrie Shabibi
,
Lennon
,
Mariateresa Sartori
,
Marina Zurkow
,
Martha Wilson
,
Mary Lucier
,
Miguel Angel Rojas
,
Moving Image
,
P.P.O.W Gallery
,
Postmasters
,
prometeogallery di Ida Pisani
,
Saamlung
,
Sama Alshaibi
,
Sicardi Gallery
,
Song Dong & Yin Xiuzhen
,
Stefanos Tsivopoulos
,
Susanne Hofer
,
Temnikova and Kasela Gallery
,
The Company
,
VALIE EXPORT
,
Video Art
,
Weinberg
,
Winkleman Gallery
,
Yael Kanarek
,
Yancey Richardson Gallery
,
Zhang Peili