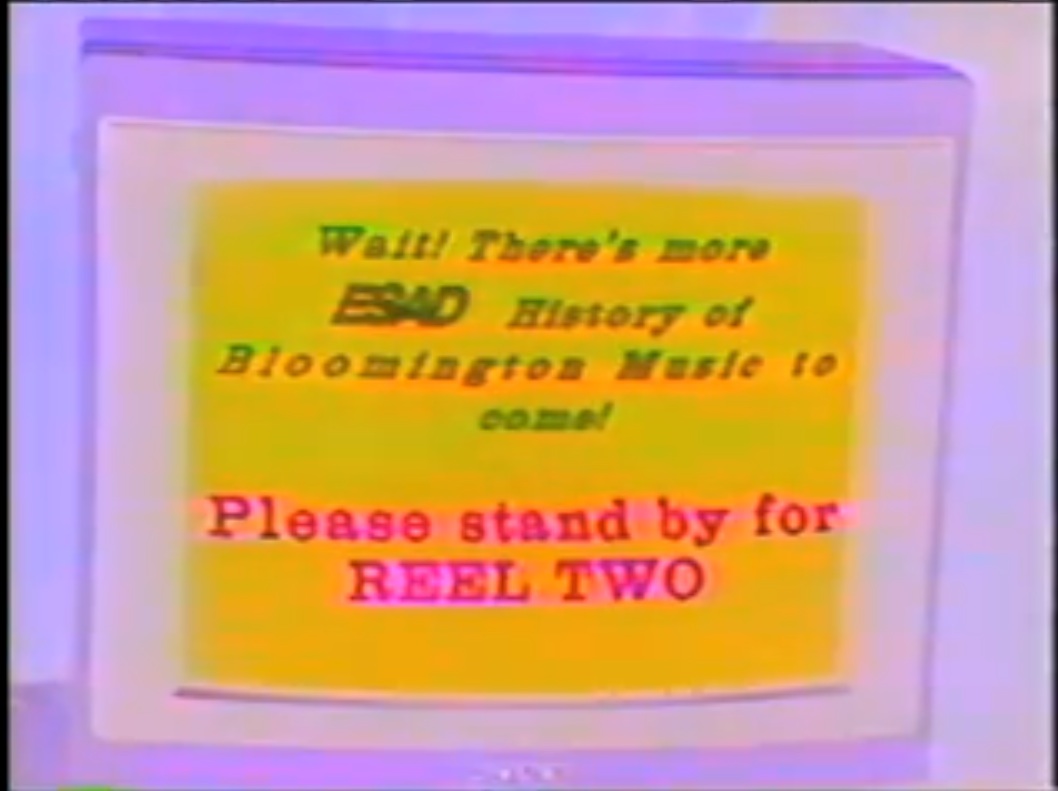 Somewhere between video diary and music nerd tribute jerked on video–like Bill Nye, but cool– this gem of a CATV special maps out and documents the somewhat subjective, vastly complicated network of musicians and bands in the Bloomington Music Scene from 1977 through 1993.  ESAD Production's History of Bloomington Music was hosted, taped, edited, etc. by Eric Indiana (aka Eric Spears– not sure what the AD part stands for) between 1991-1993 in what I'm going to speculate to be a garage–judging by the assortment of props he uses as pointers.  The special– which ran on Bloomington Community Access TV (BCAT) sourced a variety of video footage ranging from CATV, live performances, and footage made specifically for this project. The piece serves as an important document to the scene's genealogy.
"Let's go back to the mid 70s. Now, WQAX Bloomington's Community Access, Community University Access radio station had been organizing street dances that all these bands played at in the early 80s. Including the Dancing Cigarettes. Now the Dancing cigarettes were heavily influenced by MX-80 Sound." [Something is thrown at the chalkboard, Eric Indiana, using pruning shears as a pointer starts laughing, and continues] "We'll just ignore that and keep going, bc yknow although the dark demonic forces of the past are trying to disrupt this video by any means necessary, we will continue and seek out the truth." *Cuts to MX-80 Sound Video*
Eric is very active on the The Indiana Music Archive and Online Community's website, where you can go to see more of his footage and recent projects.
 Collector Scum Indiana Discography
Also– I swear I just saw a Gizmos World Tour 7″ reissue this weekend at Co-Op 87. Gonna see who put it out and add more info here soon.