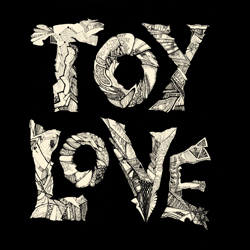 Epic Auckland record store Real Groovy Records announced they will be releasing a double LP by NZ favorites, Toy Love in honor of Record Store Day 2012. The recording captures the band's legendary –and one of last live sets at the famous Gluepot in Auckland, September 12, 1980. Transferred and prepared for vinyl mastering  from a desk tape recorded by Toy Love's front of house soundman Doug Hood, the record has been pressed in Nashville at United Record Pressing, meaning there's a decent chance that we may be able to get a few in the states.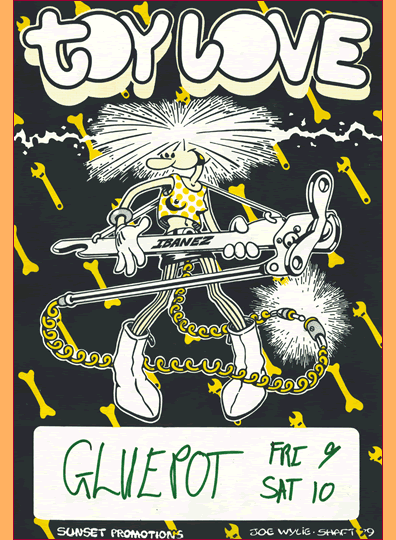 Poster by Joe Wylie; courtesy of Toy Love Archives
Regarding the (at the time) pending release, Mysterex, an excellent internet resource for NZ music posted:
Toy Love were no strangers to the Gluepot stage and performed there in the middle of September, their final month of life. At first, I thought it might be a live album (or even better some film) being slyly mooted, then had doubts and thought maybe it was just a teaser for a feature of the sort the magazine runs and that the Bride graphics were there to fill holes in the weekly's advertising or maybe even just an April Fools joke.

So I pulled the piece only to have Chris from Counting The Beat email me and say Graham Reid mentioned a Toy Love live release in the Elsewhere newsletter. Then I remembered a previous Auckland rumours entry pointing out the level of activity on the Auckland live scene in mid-1980.

The mystery deepens and if nothing else this pursuit has been fun and intriguing.

A live disc that shows Toy Love at its peak would be a more than welcome addition to my record collection, and come to think of it, didn't The Second To Last Song Toy Love Wrote, the group's track on Goats Milk Soap come from one of their last live shows? So they were taping them. Just checked the Toy Love website, which says that song was recorded at the Gluepot on the last tour.
In my correspondence with Andrew Schmidt of Mysterex, he remarked:
For a group that lasted barely two years, they were incredibly well documented, but little of that media has been made available officially.. There's a large body of film including a whole concert filmed for Television New Zealand in early 1980, a twenty minute documentary from late 1980 called Pointless Exercise, Current Affairs TV footage (if it survived) and videos for all the singles plus one b side. But the group have been a bit averse to having their past reexamined up close so hopefully this indicates a change in their thinking.
(!!!!!!!!!!!!!!!!!!!!!!!!!!!!!!!!!!!!!!!!!!!!!!!!!!!!!!!!!!!!!!!!!!!!!!!!!!!!!!!!!!!)
As Terence Hogan (Toy Love's Manager) notes in the liner notes for CUTS:
Toy Love's music always seemed to be in a constant state of being formed and reformed, songs would warp and twist with every

playing. So, for all its undeniable power it could seem unstable, almost fragile, threatening to burst out of its own skin, shards and globs all over the place – every gig was like another attempt to make this strange creature hold together and live. At times it would only take off at a few unpredictable points, at others it would lift off immediately and roar through the air – an astonishingly compelling, unlikely flying thing full of dark folds and flashes of light. The best stuff was transcendent, and the near failures were so often funny or had the buzzy pathos of a crash site, you couldn't look away.

Those early performances at Auckland venues like Zwines, XS and especially the Windsor Castle, sealed Toy Love's reputation and set a benchmark that would challenge the band throughout its brief lifetime. They were still new, like a baby, but raw as a wound, bursting with invention and exuding a singularity that stood them apart from even the best bands around them. I don't remember ever wondering what they might be doing in five years time… where do they go from here? Anything beyond what they were, and which might also be good, would be a surprising bonus. In retrospect those instincts were right.

Toy Love became (sort of) more consistent over time, without ever becoming set as if in a mould – they were too restless and honest for that – and they played terrific gigs right to the end. But I recall most fondly when they were that flawed and beautiful thing of those first few months. In amongst the smashed watermelon and broken glass, drenched in sweat and flecked with blood, the laughs, confusion, exhilaration… there was a complexity in the experience that's all about the priceless, messy human-ness that drives great
rock'n'roll. There was a long moment when to see Toy Love in full flight was to get one of the best bands in the world, right at their peak– right where I lived.
Recently digitized Toy Love performance:
T R A C K L I S T I N G
F i f t e e n
B l a c k b o a r d G r i n
U n s c r e w e d U p
A m p u t e e S o n g
To y L o v e S o n g
I Wa n n a D i e W I t h Yo u
D o n ' t C a t c h F i r e
B e d r o o m
P h o t o g r a p h s o f Na k e d L a d i e s
L u s t
S e c o n d t o L a s t S o n g
To y L o v e E v e r Wr o t e
S h e e p
S w i m m i n g P o o l
F a s t Os t r i c h
Go o d Ol d J o e
I T h o u g h t I Ne e d e d Yo u
I ' m I n L o v e
Gr e e n Wa l l s
H o r r o r C o m i c s
R e b e l
C o l d Me a t
D o n ' t A s k Me
S q u e e z e
I D o n ' t Mi n d
A i n ' t I t Ni c e
T h e C r u n c h
D e a t h R e h e a r s a l
B r i d e o f F r a n k e n s t e i n
P u l l D o w n t h e S h a d e s
Gatefold Sleeve
Insert with commentary from all members and crew
LIMITED to 400 copies worldwide–on Black and Pink vinyl only